Wednesday, June 11, 2008
Miss Gak Matching
Lately, Jasmine selalu menjadi biang kegaduhan pagi hari....
Salah satu nya adalah, suka asal kalo matching in baju-sepatu-kaos kaki....gw gak tau apa gw yg miss matching ato emang dianya yg miss gak matching...hehehehe....
Sometimes, we arguing alot....but then i decided to give up..and let her wearing what she wants. Walo kadang buat gw merusak mata banged deeh...
Contohnya hari ini....hari rabu jadwal dia utk olah raga, mama ini gave her a sport shoes with combination of red and black colour...i used to ask her to wear white sock, but nowadays she always refuse to wear the white plain sock...and prefer to use very colourful and unmatching sock instead...
Bisa di bayangkan deh...ntu sepatu ajee udah merah item ini pake kaos kaki warna ungu lah...warna biru laah...pegimana kagak merusak mataaa????
Nah hari ini lebih parah....just take a look at her:
**liat ajah tuh dia melengos kan pas di poto**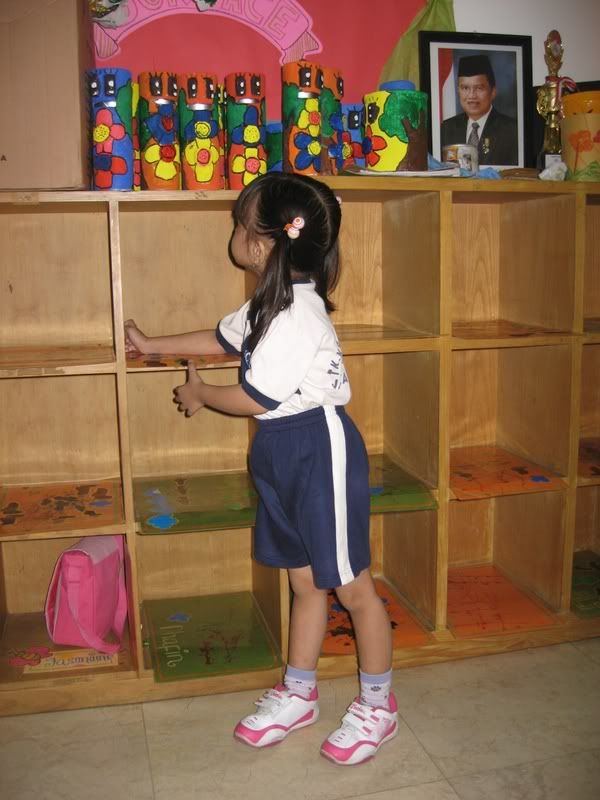 Iket rambut orange belang-belang pulak...
Baju Olah raga putih-biru
Kaos kaki ungu muda kembang2 kecil
Sepatu pink
Oh My Godddd.....
Ayah & Ibbynya Jasmine
1:35 PM
=-+-=
My Stick Family from WiddlyTinks.com