Thursday, July 31, 2008
on last weekend
Another backdated and long post....hehehehe
We went to Cisarua Puncak anddd rumah sosis Bandung...hiyyaaa...
a bit hassle when we planned to go to puncak actually. Since uti radio was not feeling well but we finally managed to get there with the hole gank....hehehehehe
Gank Radio Dalam dengan black AtoZ nya....Ale pinjem Karimun...and Mama ini dan Gank Petukangan Selatan dgn Kijang krista nya....
We rent 2 house villa with two bedroom of each villa. the villa its self are so so...as they are very affordable to us...but they have a very huge garden....with small football gate for the kids. we even had our dinner and breakfast at the pool side...tsaaahhh...
some picture taken on the villa
main kembang api setelah makan malam...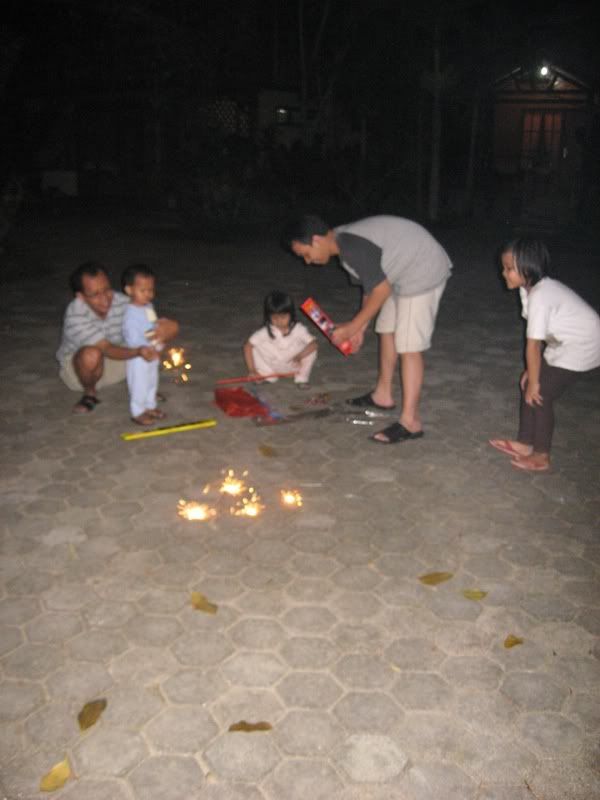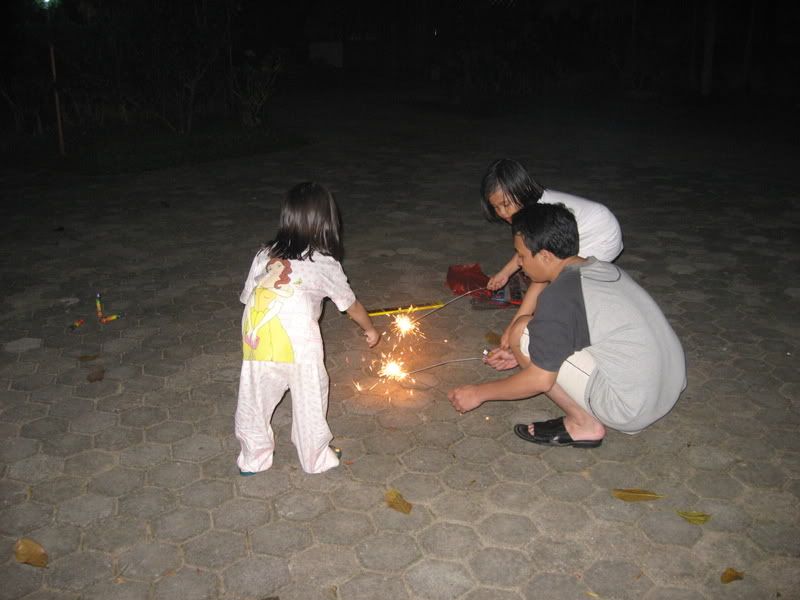 Morning activities
Main Bola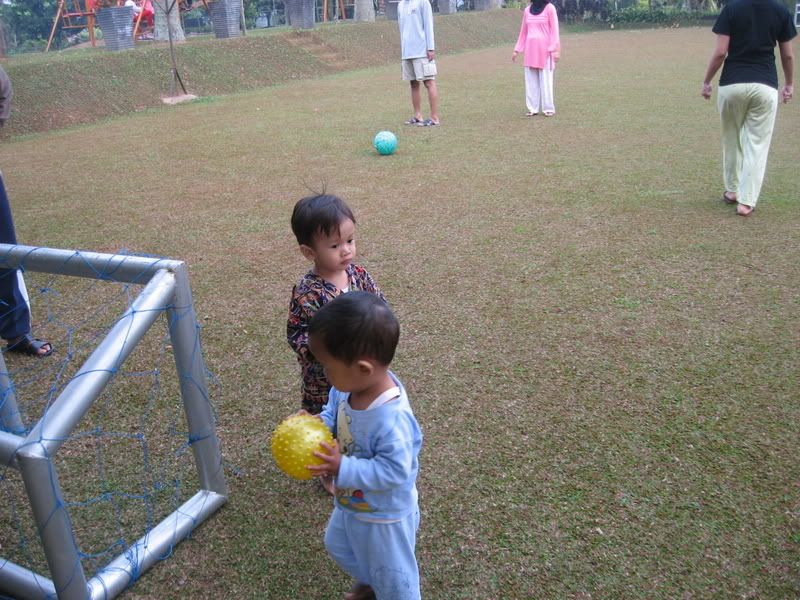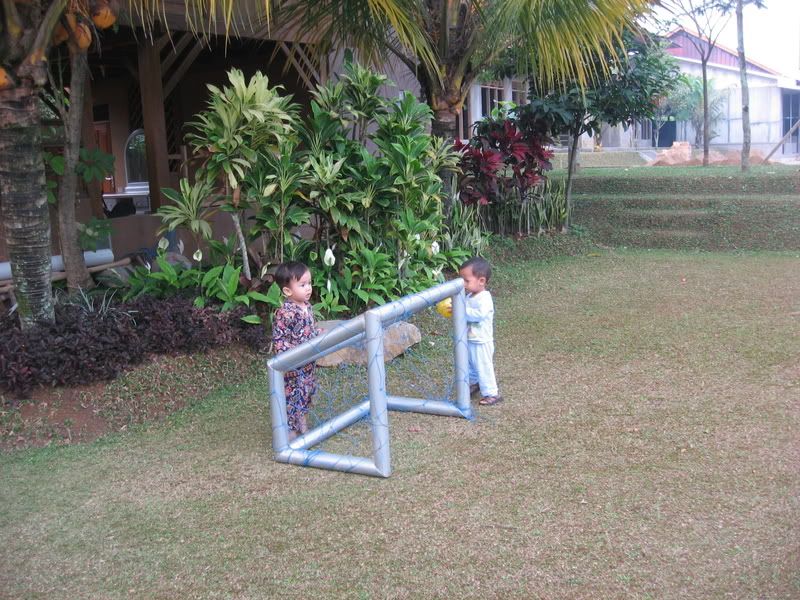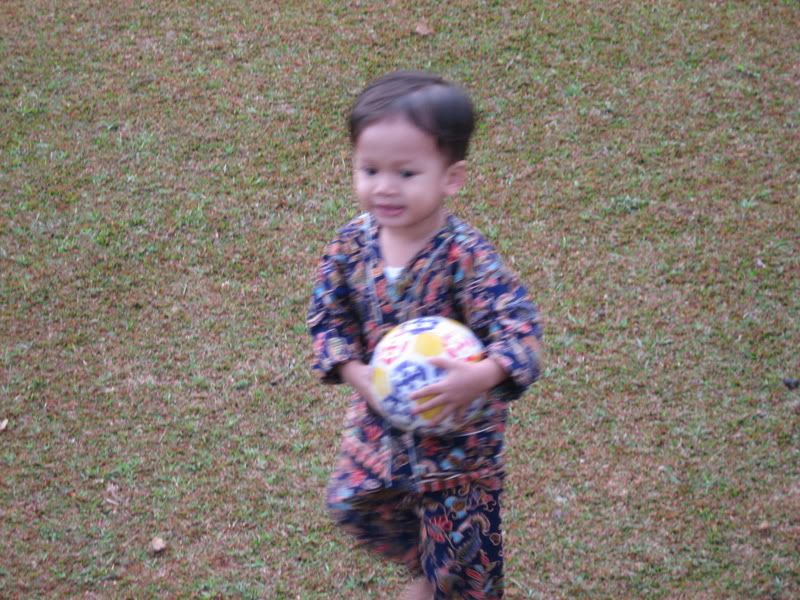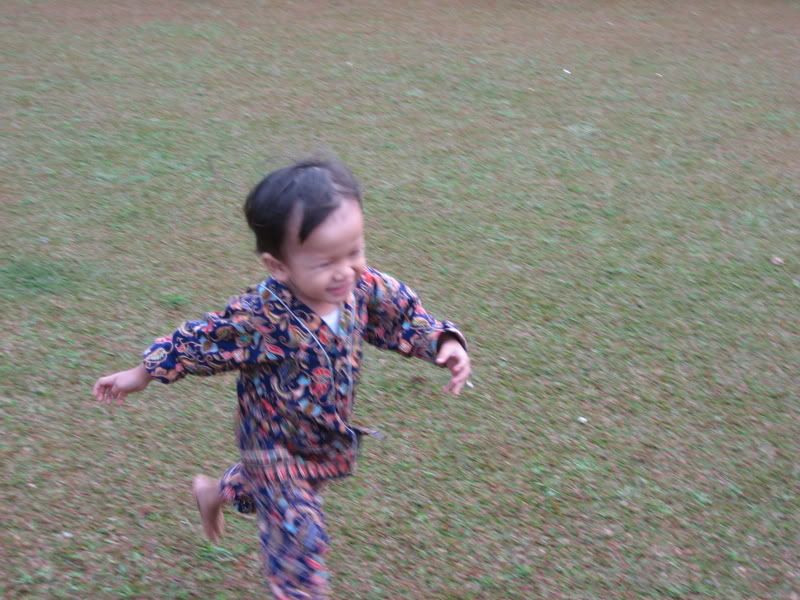 Main jungkat-jungkit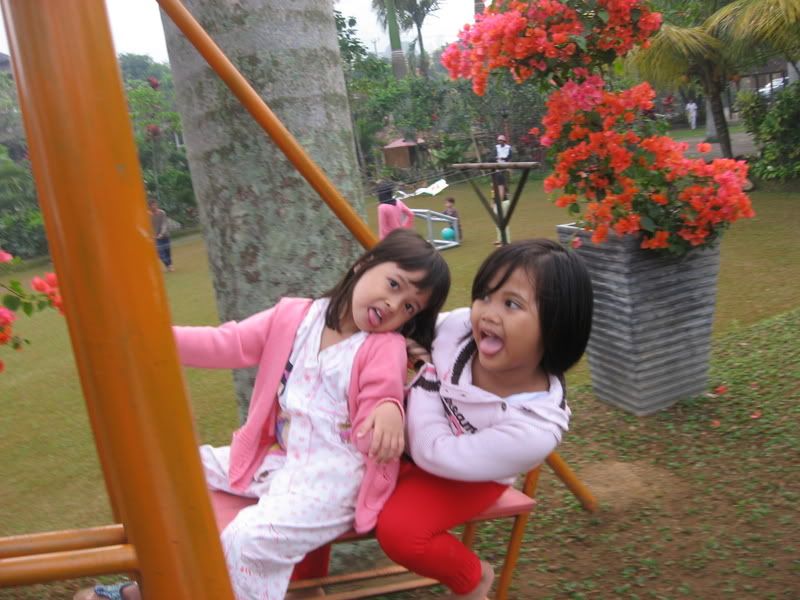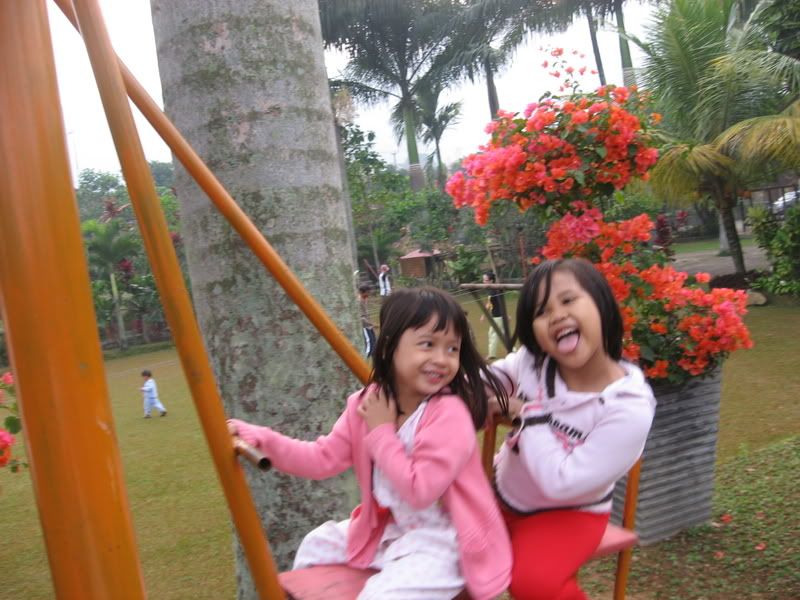 hehehehe...tumben si jasmine mau naik kuda sendiri....biasanya mana mau dia...geleeh sama kuda nya yg blom mandi katanya....hehehehe...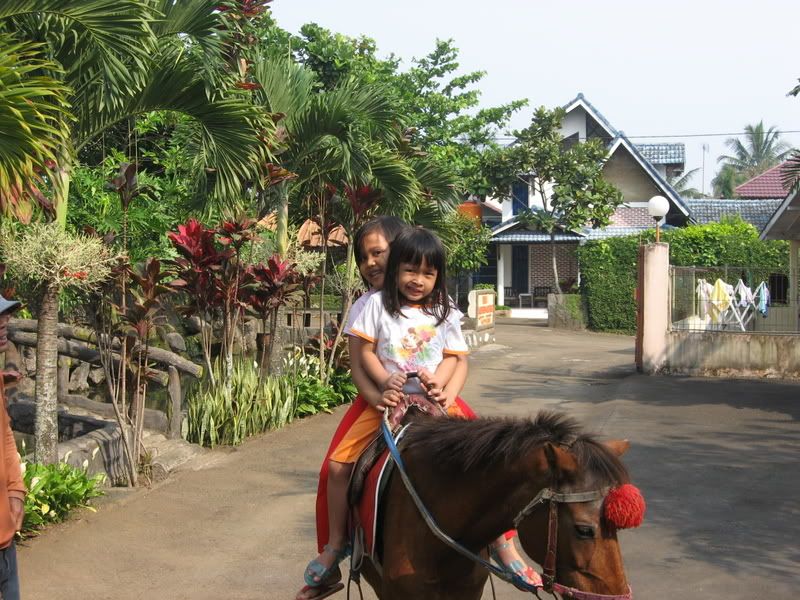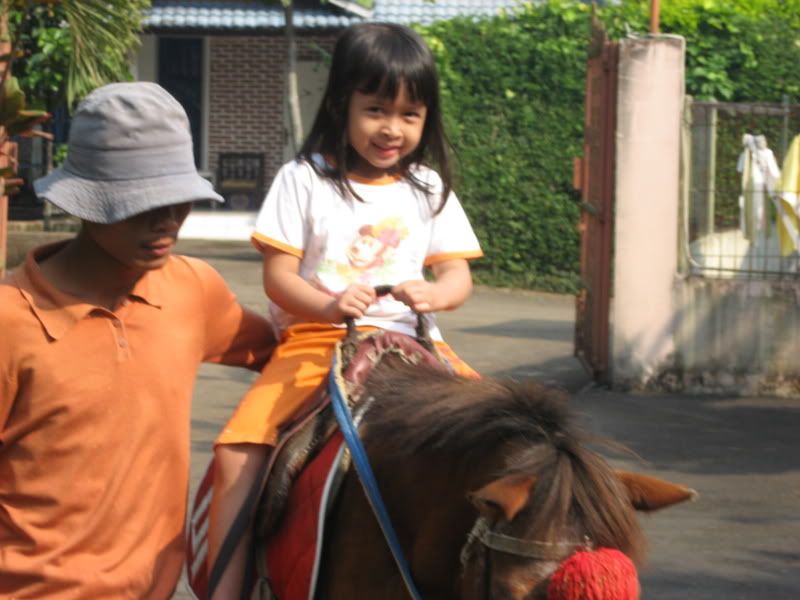 Nah, pas mo check out villa, mikiir...ehm masih jam 1o an neeh...enaknya kemana dulu yaa...mulei dah widi provokasi utk ke bandung...ke rumah sosis ajah...weleh.
Unfortunately, Ale can't join us since he brought the youngest member of the family...dedek Fatma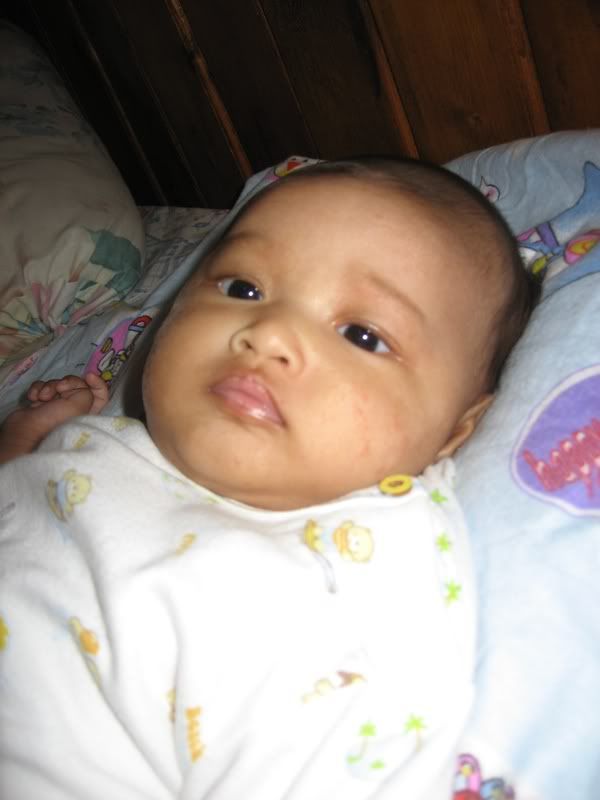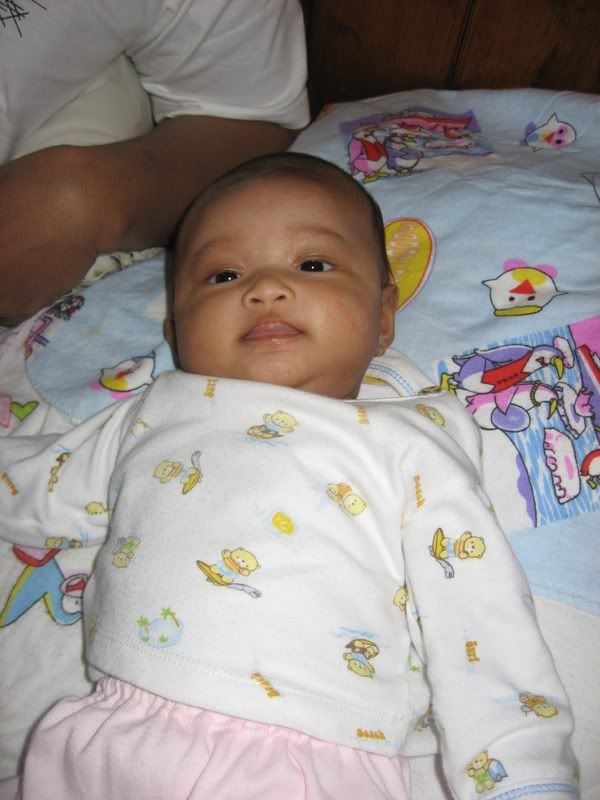 Ya sutralah yg berangkat 2 mobil Kijang dan AtoZ. Akung juga gak ikut kita, dia milih ikud Ale yg katanya mo pulang ajah...
Pas perjalanan ke dari Cisarua - Bandung, jasmine dan farras teler dan sukses molor di mobil. Lunch time kita Maksi di Resto Sederhana di Cipanas.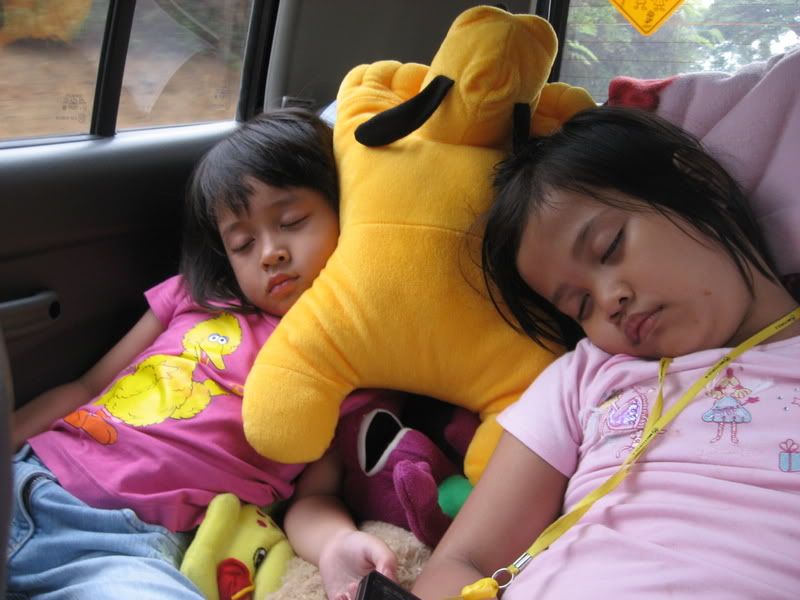 It's quite a long way trip to Bandung...butet dah kok gak nyampe2 yak! hiks...udah bete deh rasanya...after almost 2 hours we finally arrived at Tol pasteur...kebetulan udah pas di puncak tadi kita udah tanya2 temen yg lg di rumah sosis jg...ancer2nya...tapi Bandung bok, gak afdol kl gak nyasar....sementara si Kijang udah sampe duluan ke rumah sosis...si AtoZ masih ribet nyari jalan ke terminal ledeng....hehehehehe...after around 15 minutes later, akhiiirnya sampe juga di rumah sosis...pfuiiih!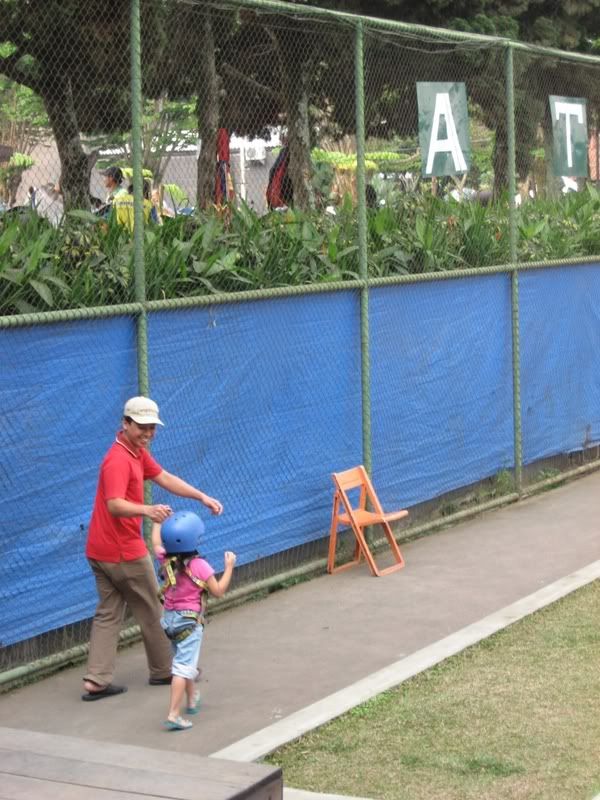 Jasmine, by the way yg udah ngidam naek flying fox langsung menuju area flying fox....hihihihi...gile tuh bocah berani juga yak ternyata...udah di konfirmasi ayahnya berani nggak, eh di jawab dengan bulat2..."Berani!!"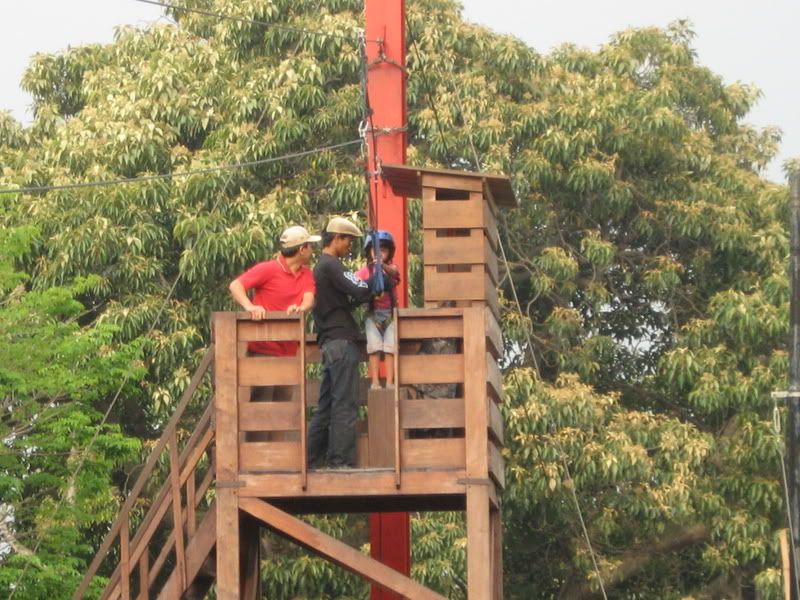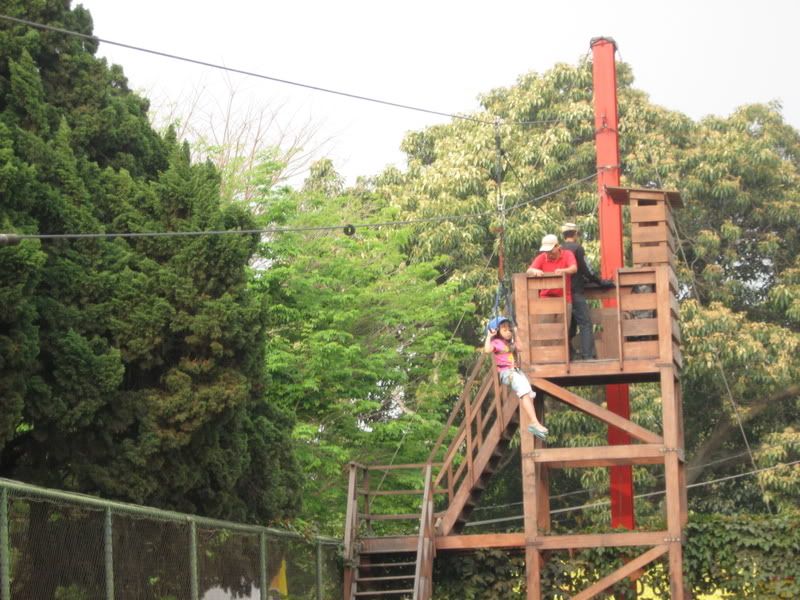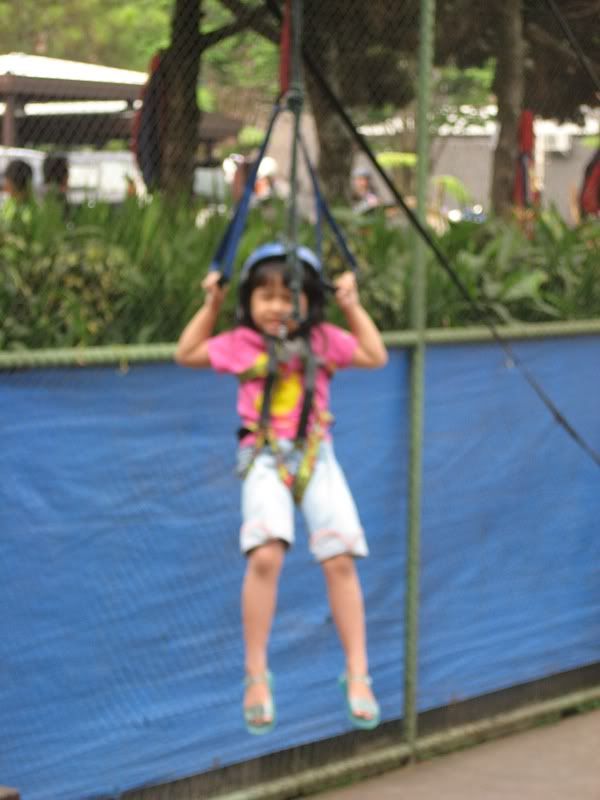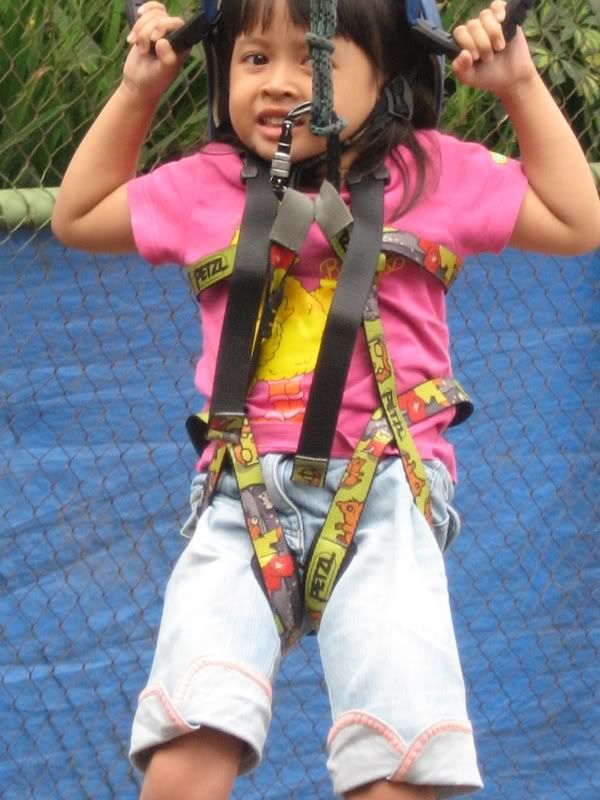 Abis itu mereka main di rumah pohon...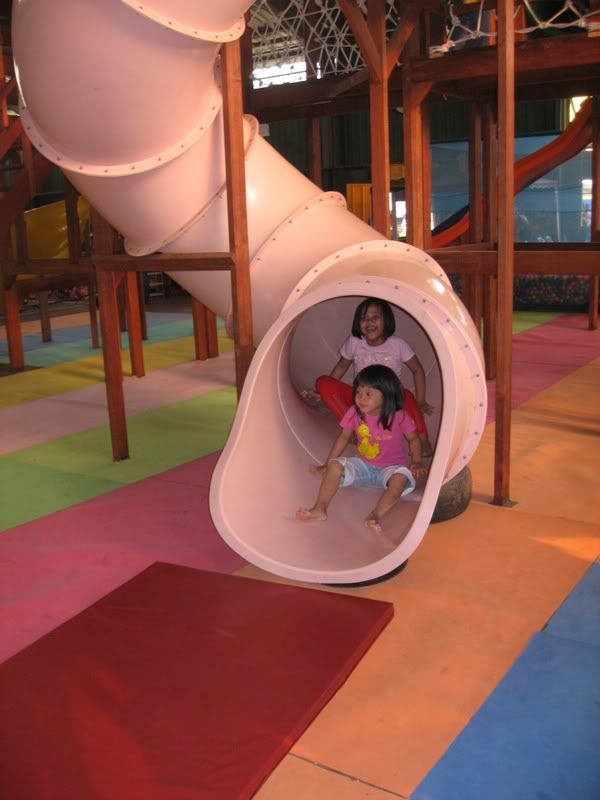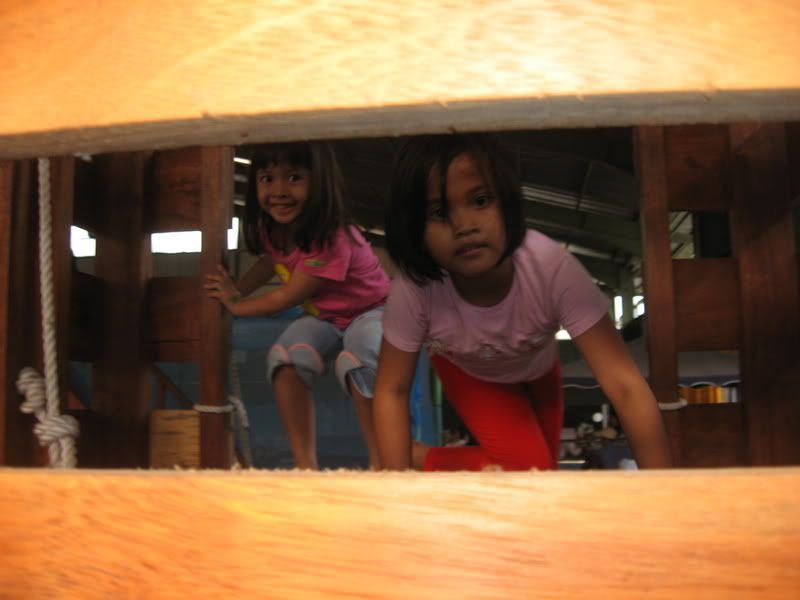 Jam 5 lewat kita check out dari rumah sosis, setelah ngeborong sosis keju, sama sosis originalnya plus nenteng 3 sosis bakar buat makan di mobil...maruk kali!
Di rumah sosis kita pisahan....walo tetep kontek2an via sms nanya udah pada sampe mana...gilingan, trip kali ini bener2 antar kota antar propinsi dah!
Alhamdulillah, we arrived at home around 10 PM safely.
Ayah & Ibbynya Jasmine
10:53 AM
=-+-=
My Stick Family from WiddlyTinks.com
Wednesday, July 30, 2008
Nonton the Dark Knight
It was a fun Tuesday....hehehehehe

I met some of my friends from my previous office who have resigned already, got lunch together in red pepper plaza indonesia.

and in the afternoon, one of my best friend from college asked me to have dinner with her and her husband in Bakerzin Plaza Senayaan....di traktir dooonkkk...hehehehe...thanks ya shan...!! muaaccchhh!!

Pas abis makan, gak sengaja kok ya nonton aseek neeh....Widi mah langsung setuju sekualee, secara emang dia tuh yg ngebet pengen nonton film batman yg baru. Gw mah hayuuuk ajah dah....so we went to the theater and lucky us that the show haven't been start yet. the next show would be on 8.45 PM...so after buying the tickets we do window shopping at Metro...hehehehe..yg window shopping cuma gw sama sabahat gw ajah seeh...para lelaki mending milih ngobrol dan duduk diluar ajeee....

The movie was good, cuma gw bingung temen2 gw pada bilang tuh film sadis banged....tp menurut gw gak juga lah...ya samalah kayak pilem2 thriller lainnya....hehehehe...padahal gw jg ngeliatnya sambil tutup mata....hehehe

We arrived at home on 00.15 AM sajaah!

Surely had fun at that night...
Ayah & Ibbynya Jasmine
9:15 AM
=-+-=
My Stick Family from WiddlyTinks.com
Wednesday, July 23, 2008
1st Day at School
The holiday is over....and back to routine life again...well, it always feel good to go back to school...
Jasmine is now in TK B... i took the picture this morning when dropping off her to school...wowwww...glad to be back!!
Jasmine class now is on 2nd floor...so dari rumah dia udah di wanti2 akung nya kalo naik ato turun tangga gak boleh sambil lari, sambil bercanda...hehehehehehe
Here's her new class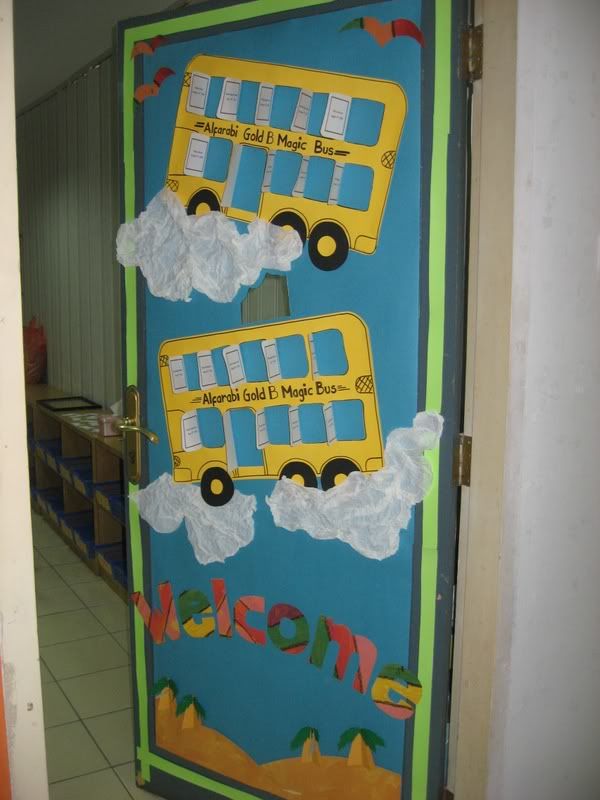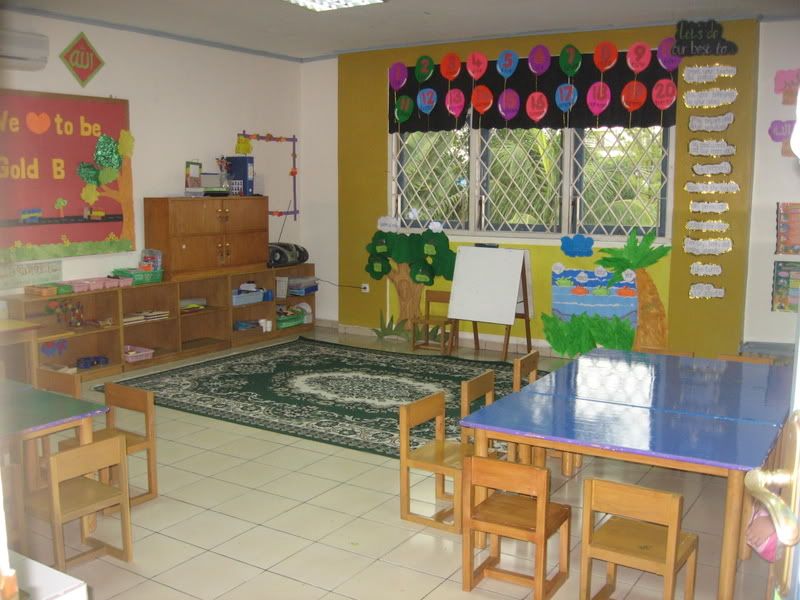 The Class entrance door*******
The Class view from the entrance door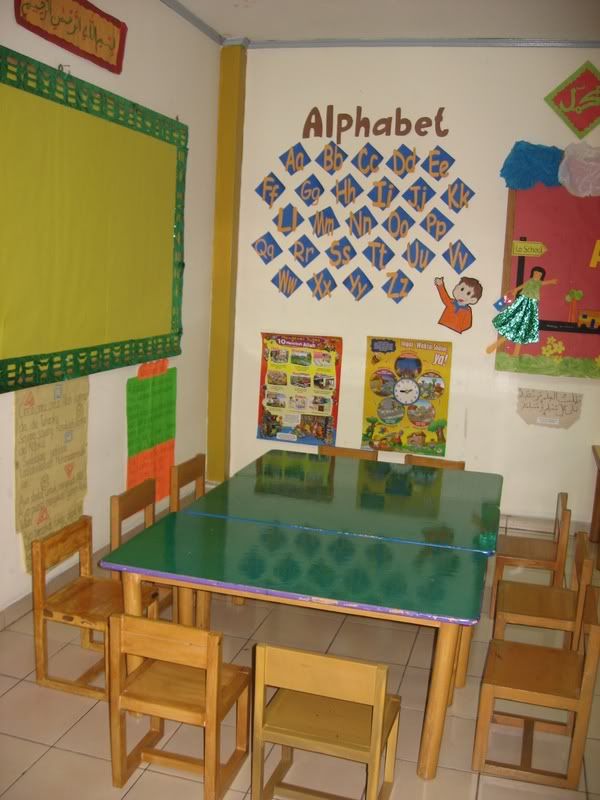 the right side of the class************the left side of the class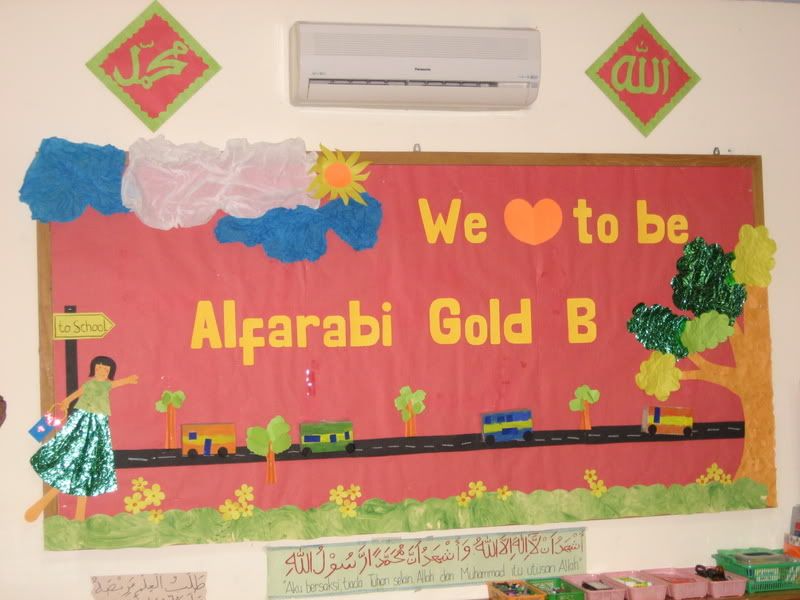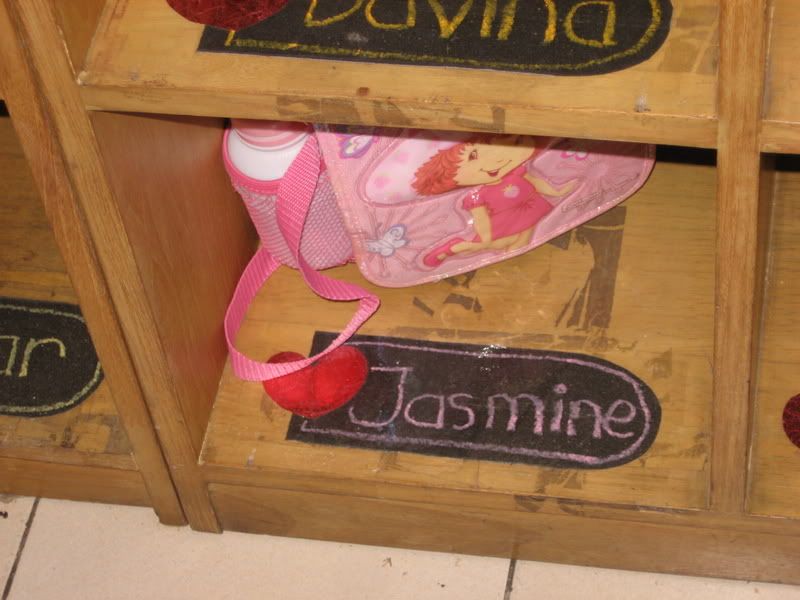 Welcome Note********************** *Jasmine's Cabby
Ayah & Ibbynya Jasmine
8:43 AM
=-+-=
My Stick Family from WiddlyTinks.com
Tuesday, July 22, 2008
Jasmine's paperworks
it's backdated post...and still about Jasmine...hehehehehe
This is one of so many mess created by Jasmine...i don't think you would be interested to see other anyway..!!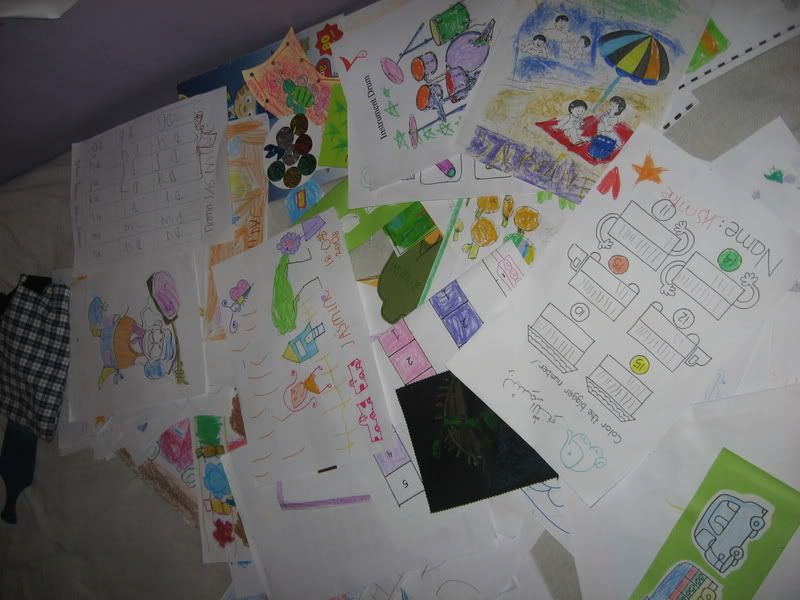 Those are her paperwork during her class in TK A....
Monday i just noticed that i haven't empty her blue bag from her paperwork during 2nd semester of TK A...so i bought orange clear folder in Gramed containing only 40 sheets...and as i predicted, it can't be filled with those huge paperwork..hehehehe...so i think i need another clear folder.....gosh! banyak yeee!!
Ayah & Ibbynya Jasmine
10:31 AM
=-+-=
My Stick Family from WiddlyTinks.com
Friday, July 18, 2008
Touring to Serang
This time we went to Serang with our tiny but lovely car community hehehehe...they rock! we had lots of fun when went out for our first touring to ciwidey couple month ago....
But, problem came on friday night when we found out that Jasmine's dermatitis atopic hurt one of her leg so she can't walk like normal...so we decided to drop off at Jasmine's dermatologist on saturday morning. We got there by 7.30 AM and got queue number 29...gilingaaaaaaaannnn..!! yg laen ngantri dari jam berapa tu?? So, Jasmine's turn was on 12.00 PM!! it means almost 5 hours waiting.
Akhirnya....setengah ngibriiit kita kabur ke meeting point yg sudah ditentukan, tapii ternyata mereka sdh berangkat konvoy duluan...yaiyalah wong janjiannya jam 11 disana, lah kita jam 12 ajee masih nyangkut di tebeett....bete deeh!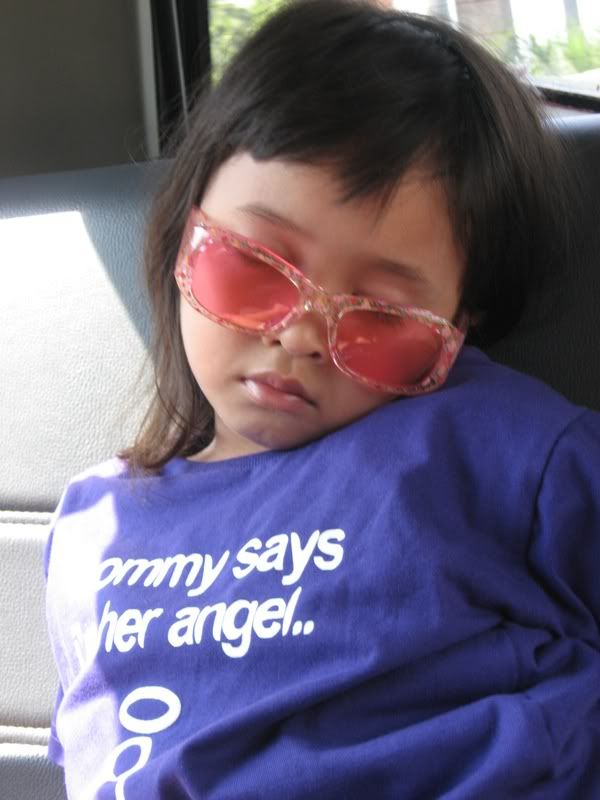 Ternyata pas mo masuk tol karang tengah udah macet cet..cet gak bergerak...gw kira antrian masup tol...akhirnya gw telpon jasamarga pengen tau ada apa seeh? bok, ternyaata menurut jasa marga ada truk nyangkut di KM 15...dan kejadiannya baru ajah..hiks...KM 1 ajah blom kelewat....pegimana cara nyampe ke KM 15 dah kl macet gitu..hiks..hiks..tambah bete!
Anyway, akhirnya bisa juga ngelewatin KM 15 selama hampir 2 jam...setelah gitu jalanan relatif lancar walo kondisi jalan ancur banged..lobang di tengah jalan tol segede gaban jek!! abis tuh dah, krn rencana kita2 pada mo bakti sosial ke salah satu panti asuhan di serang gw minta widi telp pak ketu suruh tungguin kita di hotel biar kita langsung ajah ke panti gak usah check in hotel dulu...widi nya males bin ribet....jadilah kita arguing di jalan tol....akhirnya kelewatan donk tuh pintu tol serang timur...arrrggghhhhhhh.....dan keluar di pintu tol cilegon/merak...butet dah!
what a journey....
Sampe hotel, langsung check in dan rebahan...pfuuiih! Temen2 lain udah berangkat ke panti..ya sutralah emang salah kita jg sih...hiks....pake ribut di jalan tol...hehehehe...
We stayed at Le Dian Hotel, Serang. This hotel is highly recommended. Bersih, nyaman, ada hot spot nya, kolam renang bersih dan teduuh, kamarnya nyaman...woikeh beibeh dah pokoke...hehehehehe...
Here's the hotel view...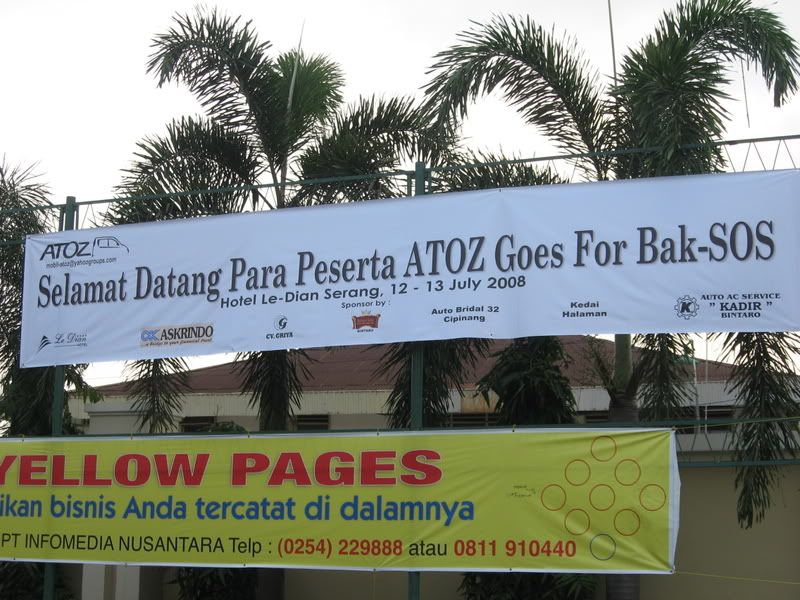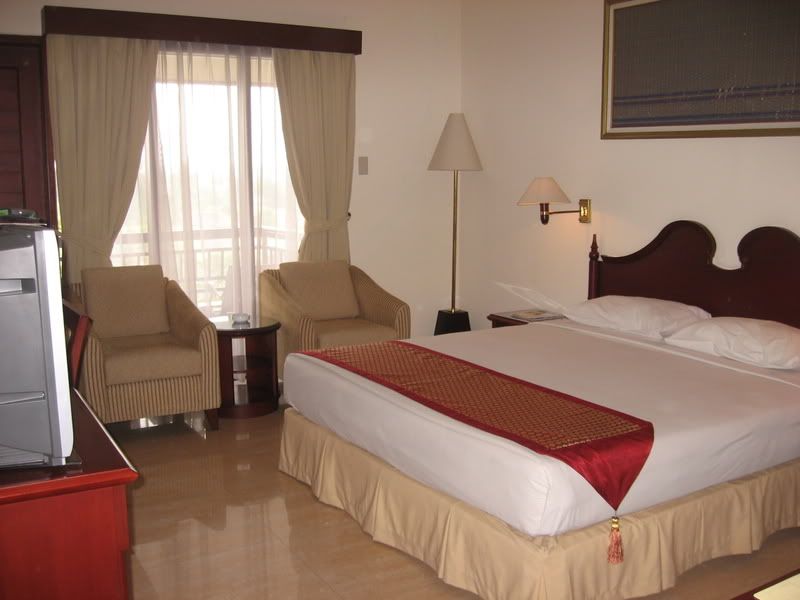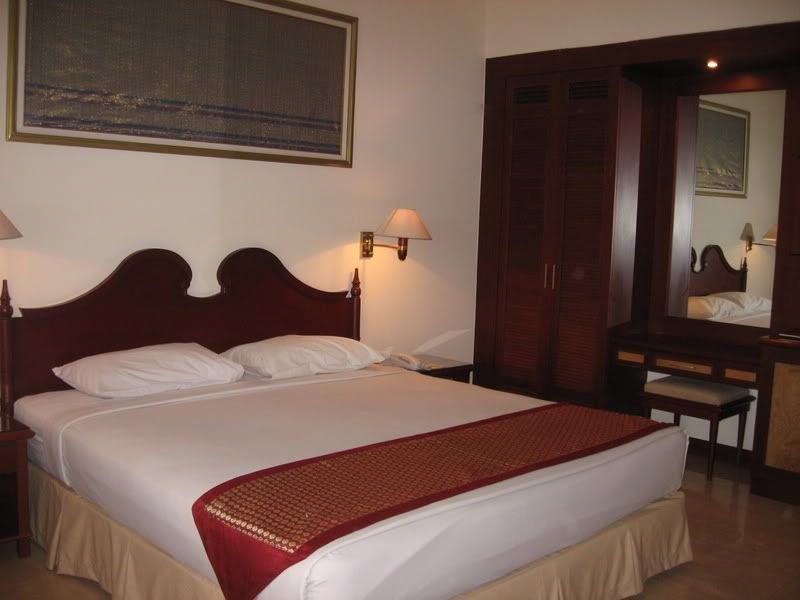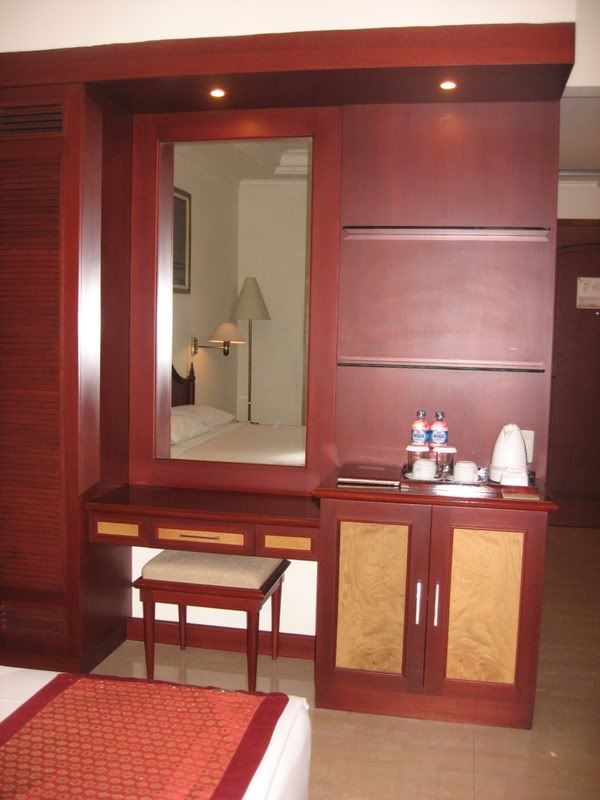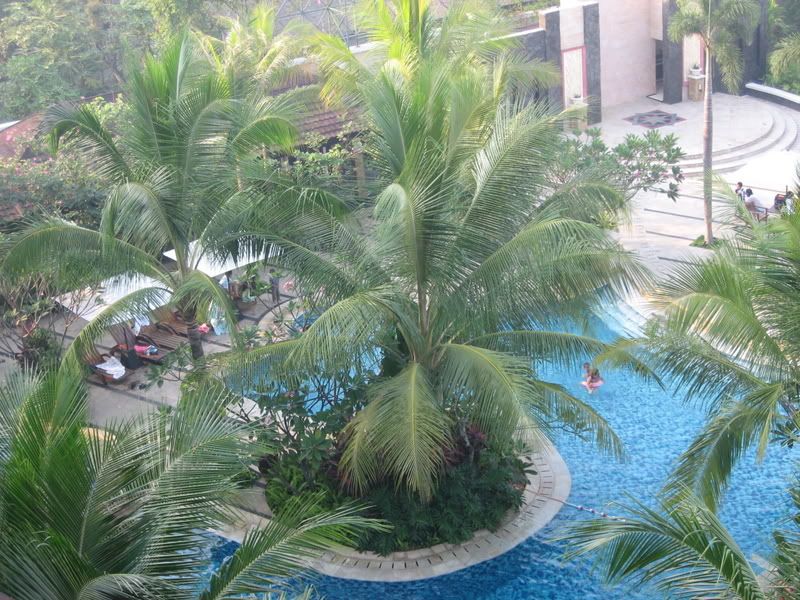 Jasmine tak membuang2 waktu, mumpung masih jam 4 sore...meluncur ke swimpool. dermatologistnya kasih ijin dia utk berenang...sip lah...hehehehehhe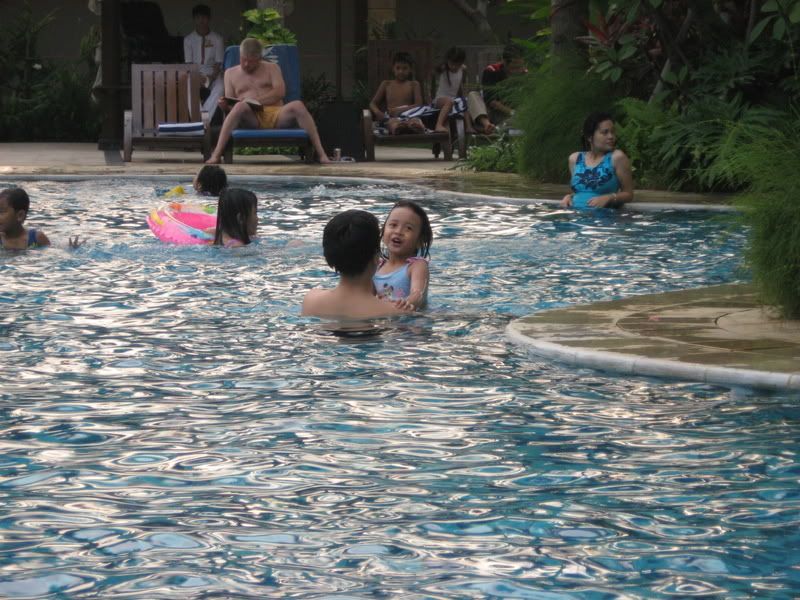 Ndilalah, jasmine ketemuan temen lama...mantan temen playgroup dia di tk kembang, Faya who is happened to be a daughter of our community treasury...hihihihi....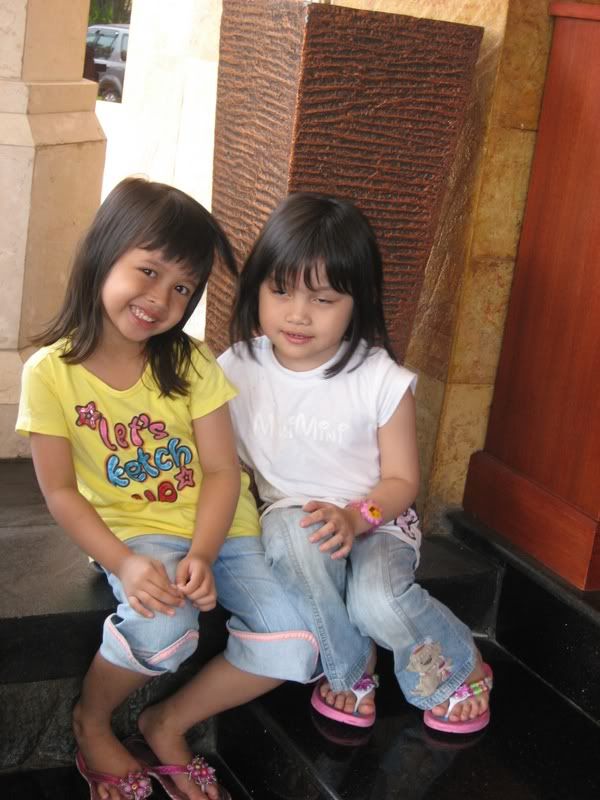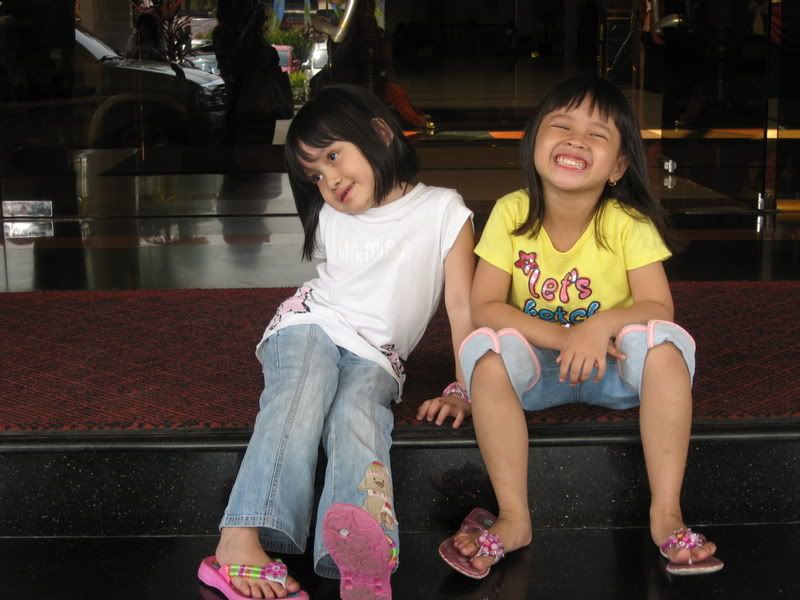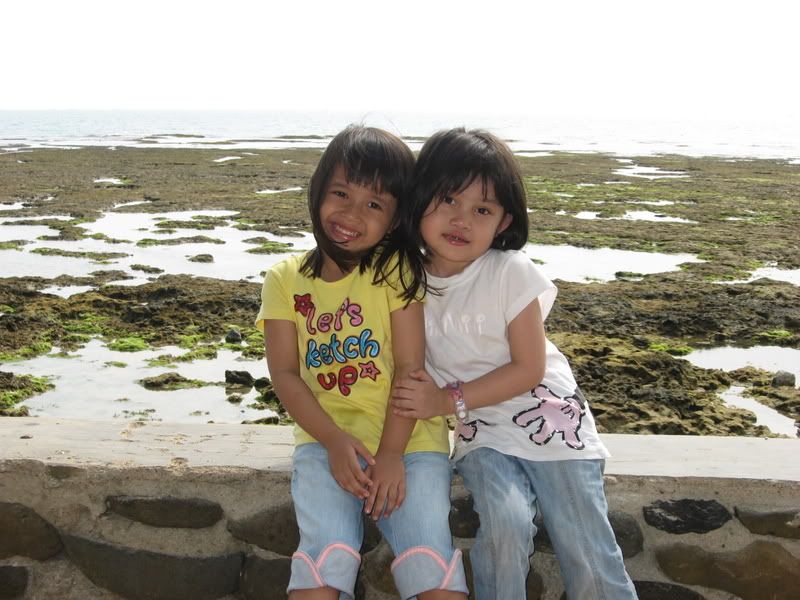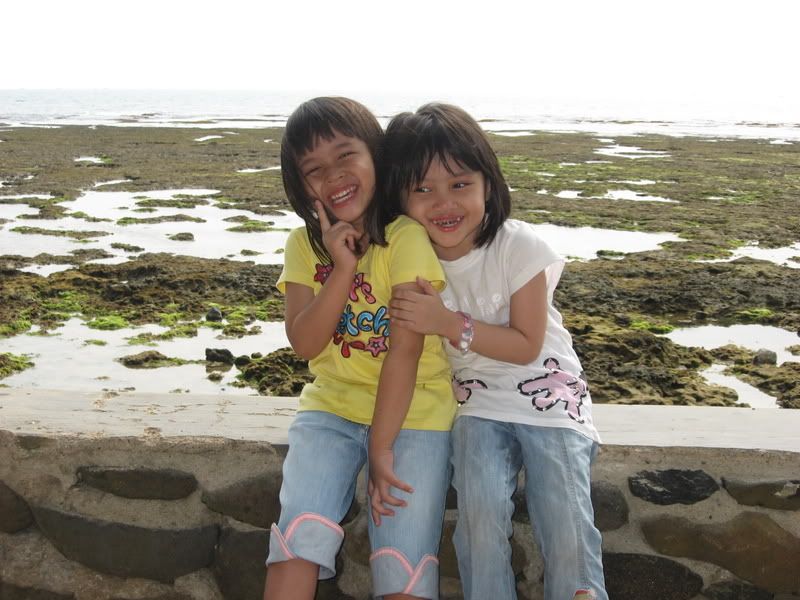 the rest pictures can be seen in
our photo album
I don't know how can the idea comes up...but we're planning to do the touring to semarang and yogya soon...OMG....
Anywaayy...
Have a wonderful weekend everyone...............
Ayah & Ibbynya Jasmine
11:31 AM
=-+-=
My Stick Family from WiddlyTinks.com
Thursday, July 17, 2008
The Birthday Story
the Birthday Cake and Cupcakes....fresh from
Mama Ini Kitchen
....tengkyuuuh mama iniii...muaaach...muacchh!!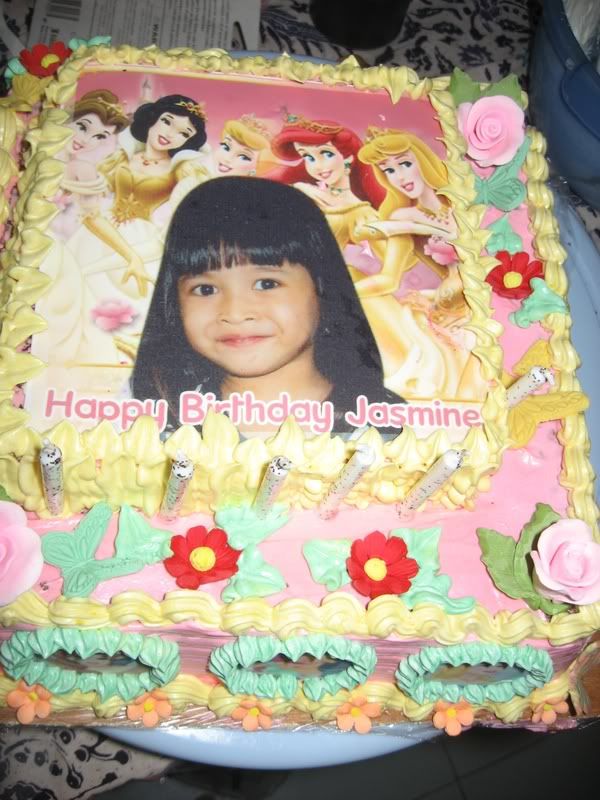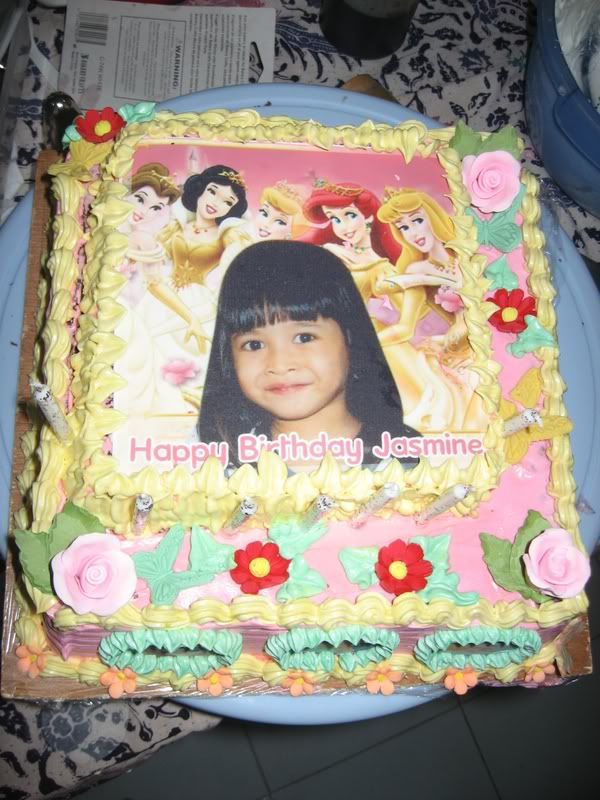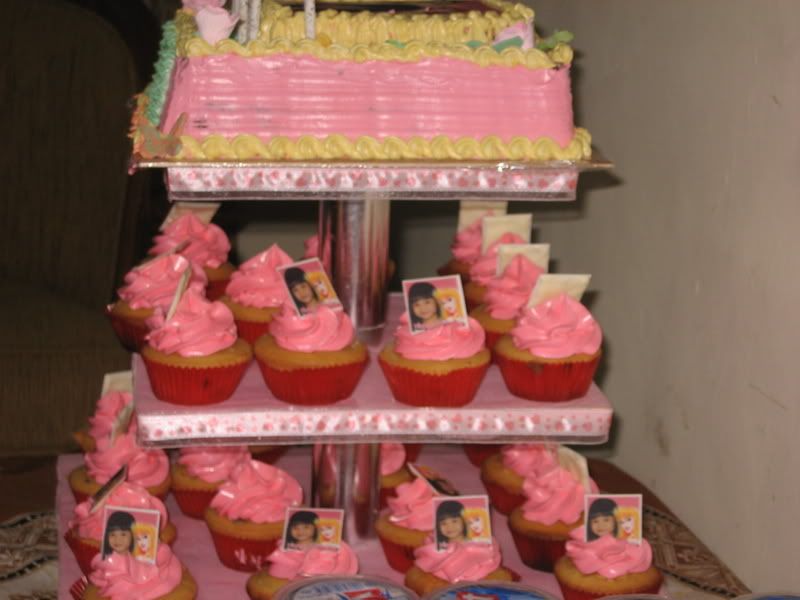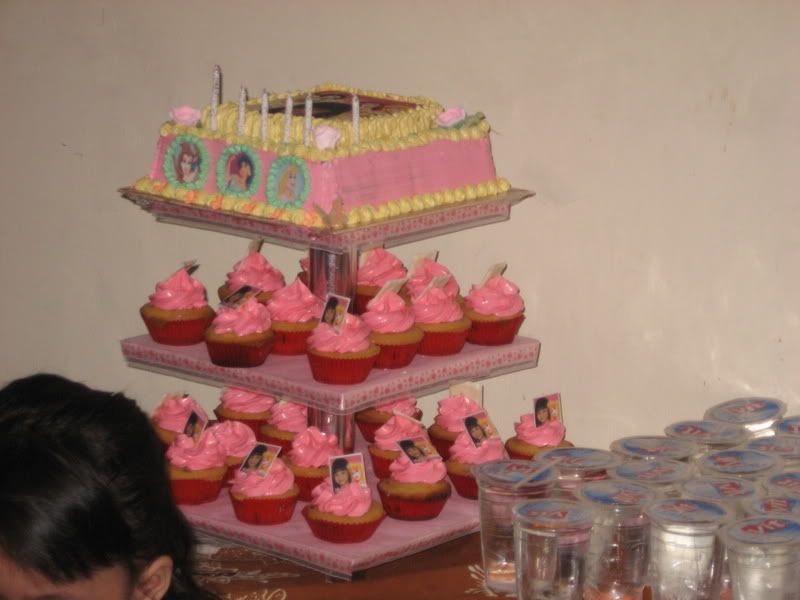 Karena emang udah niat gak bikin party-party kayak tahun2 lalu..cuma panggil temen2 sekitar ajah untuk dateng ke rumah tiup lilin...no fancy goodybag either...cuma cupcakes & jelly ajah...hehehehe...tapi teteuup kok heboh! hehehehe
Alhamdullilah, salah satu guru ngaji jasmine bisa pimpin doa sekalian bawain acara.
Farras - Jasmine - Xavier.... gak pernah gak! gak ketemu kangen...ketemu...perang dunia ke 3...!!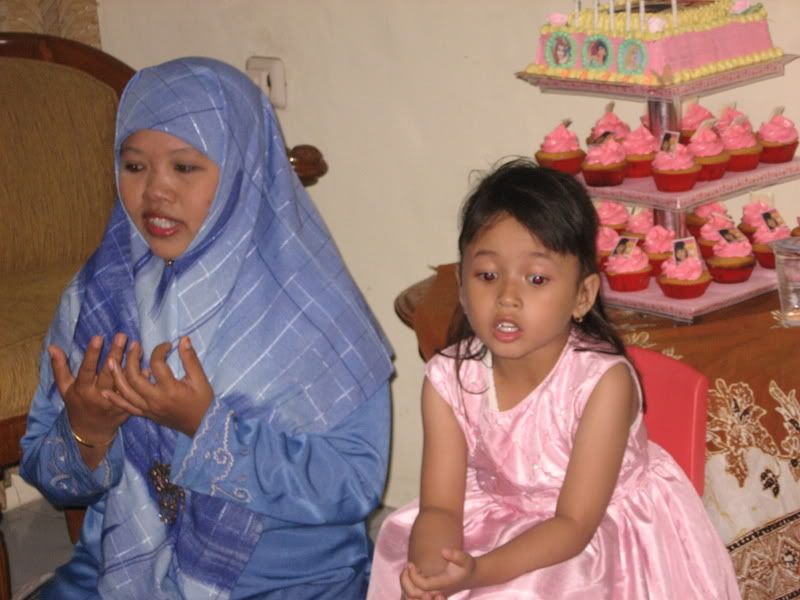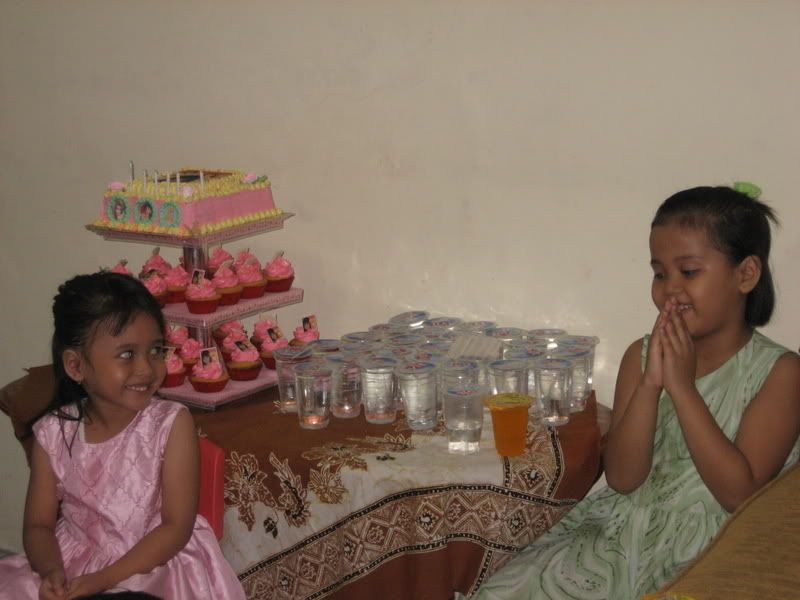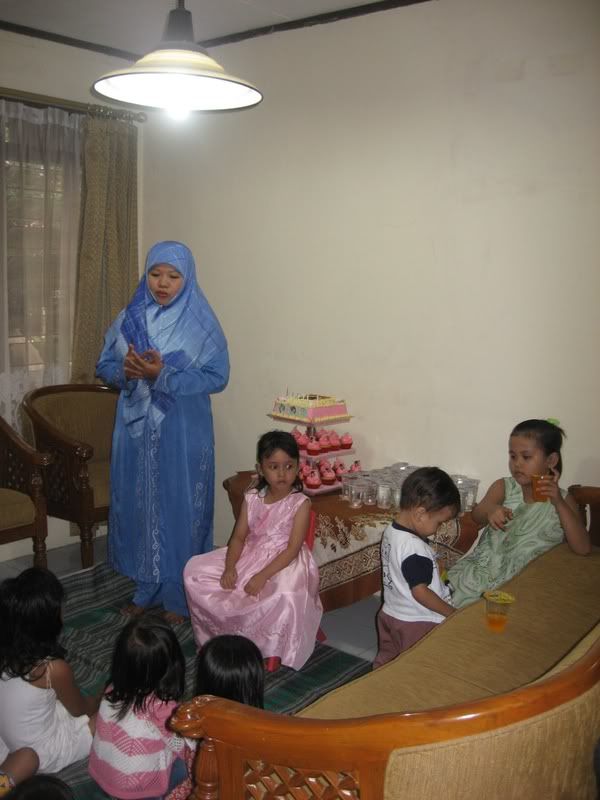 So, here's the crowd.....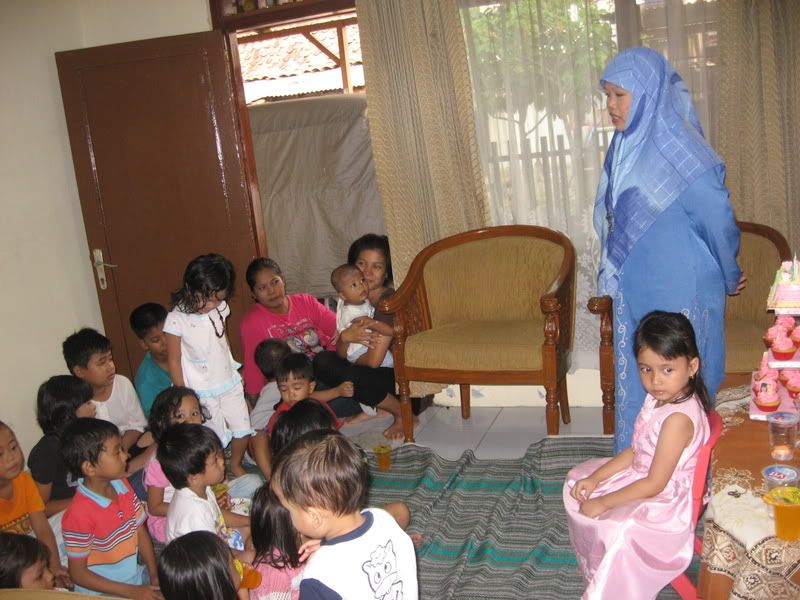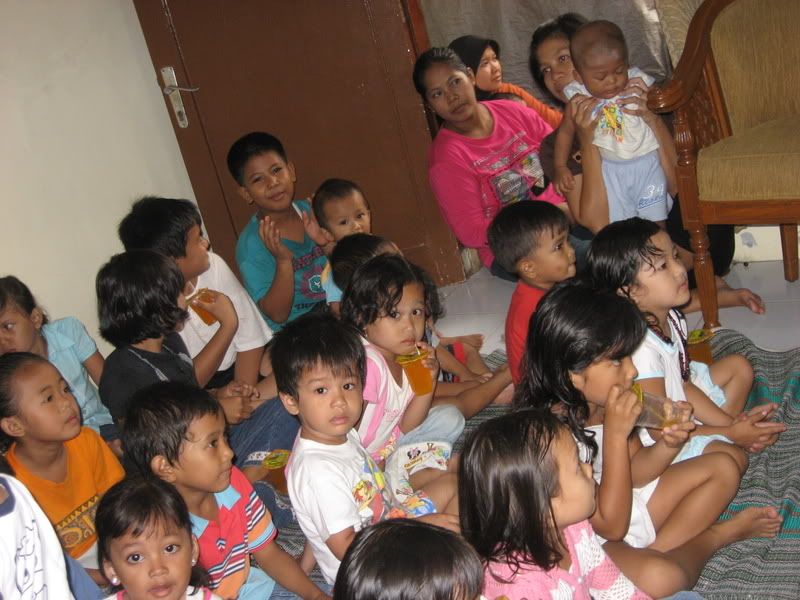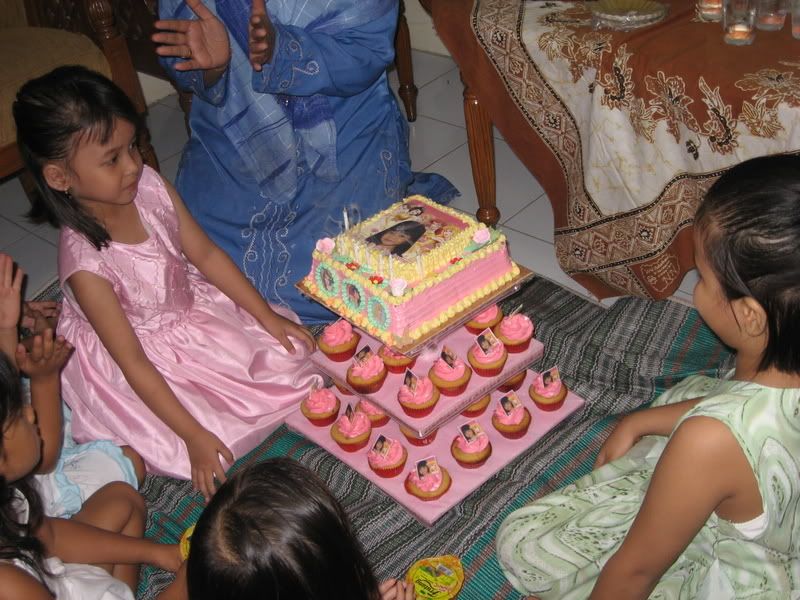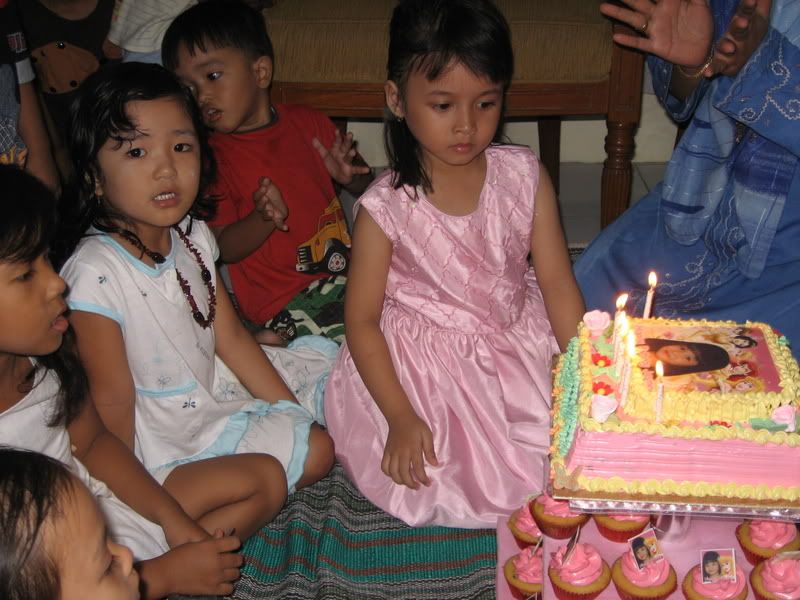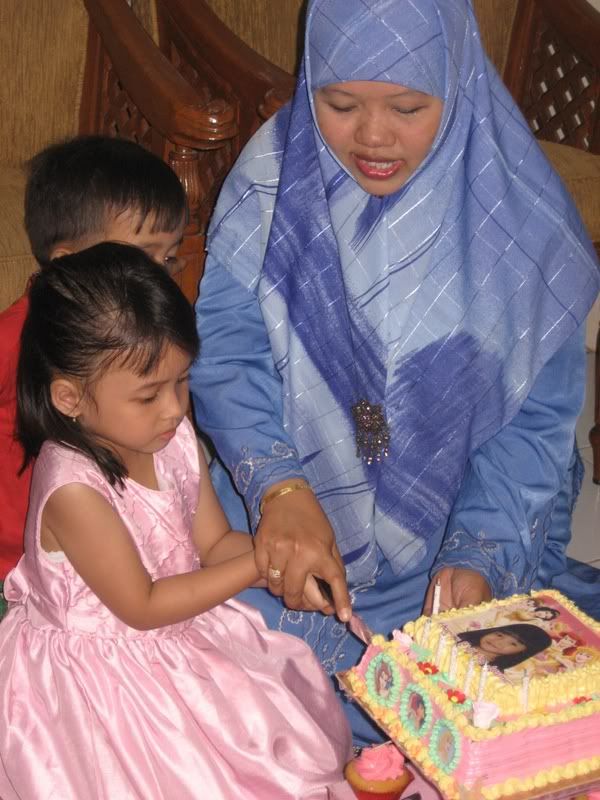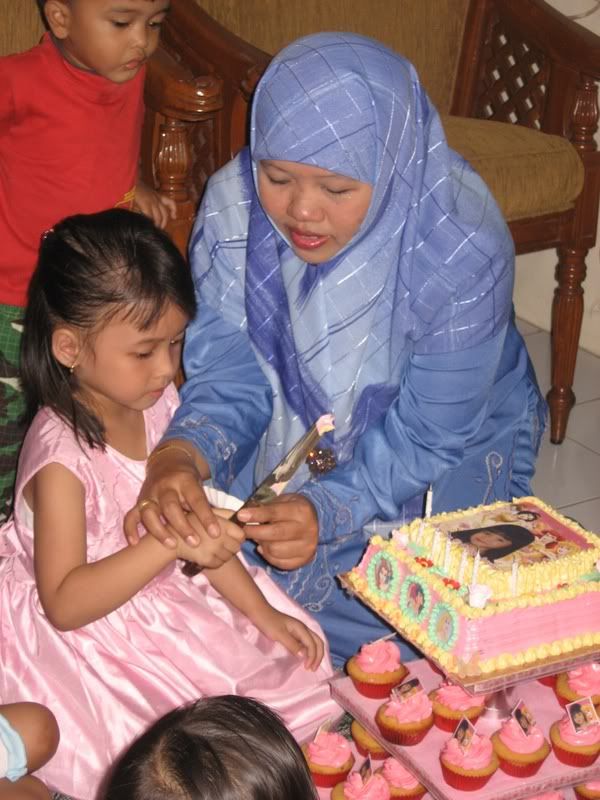 Ayah & Ibbynya Jasmine
10:09 AM
=-+-=
My Stick Family from WiddlyTinks.com